Getting to the Start
Start Location: Victoria St, Thomas Square, Honolulu
Finish Location: Victoria St, Thomas Square, Honolulu
Race Start: 6:45 AM on Sunday, March 5, 2023
Arrive early to avoid road closures in the area.
Traffic Advisory

RACE DAY SCHEDULE:
4:30 AM – Blaisdell parking lot opens
5:00 AM – Bag check opens in Thomas Sq
6:00 AM – Access roads to the parking lot close
6:15 AM – Blessing ceremony by King Kamehameha III statue
6:30 AM – Start chute opens
6:45 AM – RACE START
6:55 AM – Start line closed and timing mats removed. You will not be able to start if you are late to the start.
PARKING:
Blaisdell lot available for $10.
Parking passes can be pre-paid at packet pick up. This will speed up entry.
Cash and credit cards also accepted at the gate.
Lot opens at 4:30 AM.
Access the parking lot from Victoria St.
Please arrive early as access to the Blaisdell lot will close as the access roads are closed at 6:00 AM and to speed up entry.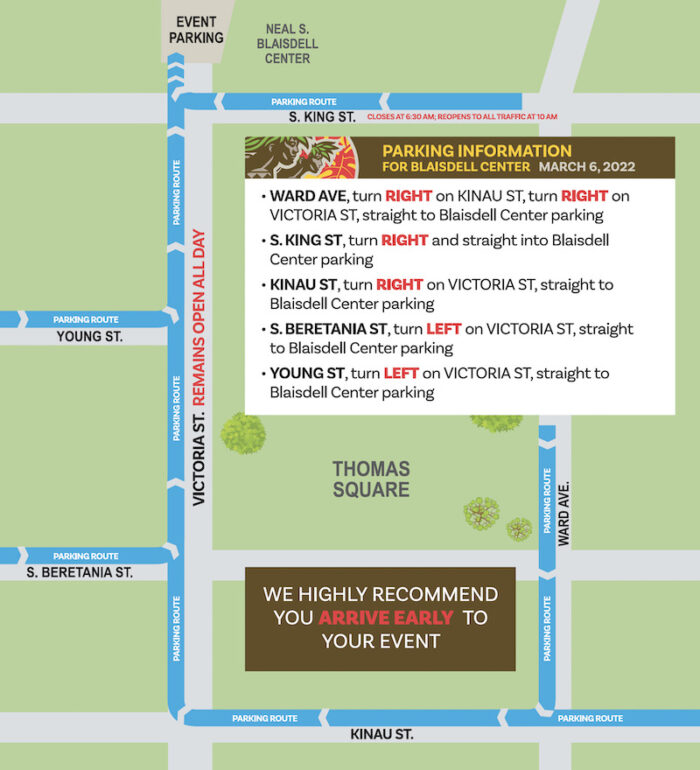 FESTIVAL AREA MAP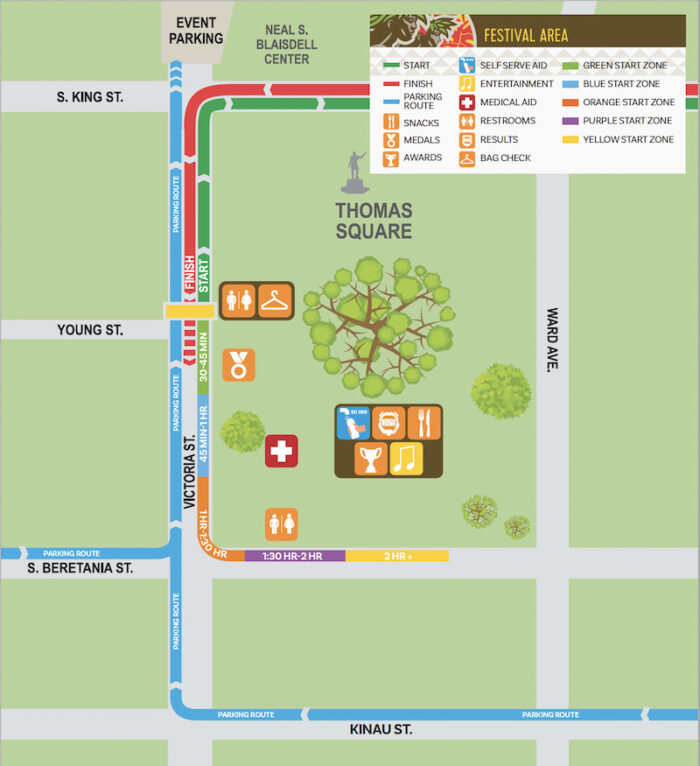 Street parking
Limited street parking may be available in the surrounding area. All metered parking along Victoria St, Beretania St and Young St adjacent to Thomas Square will be restricted to event vehicles only with authorized parking permits.
RESTROOMS:
Portable facilities available.
BAG CHECK:
Clothing Check-In at the Start/Finish in Thomas Square from 5:00 AM.